Knowledge about GPS Receiver
What is GPS receiver?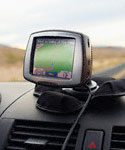 When people talk about "a GPS," they usually mean a GPS receiver. The Global Positioning System (GPS) is actually a constellation of 27 Earth-orbiting satellites (24 in operation and three extras in case one fails). The U.S. military developed and implemented this satellite network as a military navigation system, but soon opened it up to everybody else.
A GPS receiver's job is to locate four or more of these satellites, figure out the distance to each, and use this information to deduce its own location. This operation is based on a simple mathematical principle called trilateration.
The most essential function of a GPS receiver is to pick up the transmissions of at least four satellites and combine the information in those transmissions with information in an electronic almanac, all in order to figure out the receiver's position on Earth.
»more
GPS Receivers vs. Tracking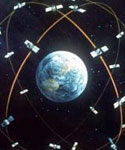 There is a popular misperception that GPS is a "tracking" technology and therefore that it can be easily misused by public agencies and private companies to monitor people's whereabouts. In reality, a GPS receiver is just that, a receiver. It knows its location (latitude, longitude, altitude, compass heading, and speed) anywhere on Earth, within about 30 feet. (Differential GPS receivers can achieve an accuracy of a few millimeters.) However, several companies now produce GPS-based tracking devices that couple a GPS receiver with a wireless transmitter, usually using the control channel on a cellular network. These devices relay the position of a vehicle to a tracking center. Someone who purchases a handheld GPS receiver at a sporting goods store or a car GPS receiver at an electronics store need not fear that Big Brother will hence always know her or his whereabouts. However, someone renting a car or a boat might ask whether the vehicle is equipped with a GPS receiver and a transmitter, as rental companies often track their vehicles.
http://www.ready-sourcing.com/sourcing-news/auto/gps_receiver.html