In Taiwan, GPS suppliers, besides taking over most international companies' orders, also successfully develop GPS watches for climbing, golfing and cycling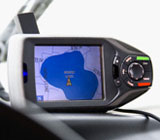 Taiwan GPS Receiver Market
In Taiwan, GPS suppliers besides taking over most international companies' orders, also successfully develop GPS watches for hiking, golfing and cycling. GPS receiver navigation devices have developed rapidly in recent years and are now much more than talking maps. Auto electronics, consumer electronics, home appliances, information and communications technology (ICT), and telecoms companies have worked together to give them a much more diverse range of functions including use in those of MP3 players, digital photo albums, movie players, and real-time road-condition receivers. They now provide information on navigation, recreation, and entertainment, all in a single unit.
Taiwan's GPS industry started to take off in 2007. After MiTAC bought Navman, they've become the second biggest GPS company in Europe. Also, their sales of 800 million of PND has made them become the third largest GPS supplier in the world. At the same time, TomTom and Garmin have expended their ordering to Taiwan OEM's from components to fabrication products. The global leader in satellite navigation, Garmin Ltd. and its subsidiaries have designed, manufactured, marketed and sold navigation, communication and information devices and applications since 1989 - most of which are enabled byGPS technology. One of their principal subsidiaries is located in Taiwan. Including Japanese and European orders, Taiwan's GPS sales were around NT$171 billion. The total growth rate was 70%, which makes its growth very noticeable compared to the 2007 ICT industry growth rate of 4.6%, or 730 billion dollars.
Even though this year, European and U.S. consumer electronic product sales are still being effected by the current economy situation, IEK is still very pretty positive about the GPS market in Taiwan. The Taiwan GPS industry market will grow strongly once the market moves from Europe and the, U.S. to the newly developed countries.
GPS for Hiker
What's a suitable GPS for cycling? Color mapping,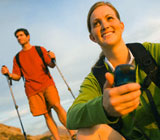 long life battery or replaceable batteries, topo, street/road, & bike trail mapping, text-to-speech (gives me the street name), prefer selectable car vs bicycle mode, a way to pick future routes, possibly software that would use steet & topo to avoid large hilly areas on long distance biking, large SD card, fairly waterproof, screen can be seen in sunlight. One of the Taiwan GPS receiver suppliers announced their product as an all-in-one GPS receiver.
Dedicated massive-correlator signal parameter search engine within the baseband enables rapid search of all the available satellites and acquisition of very weak signal. An advanced track engine allows weak signal tracking and positioning in harsh environments such as urban canyons and under deep foliage.
With very fast signal acquisition speed, it has very low average power consumption for locate on demand type of applications.
GPS for Golfing
Golf GPS systems are rapidly evolving from only player enhancement to complete course management systems. The primary goal of a golf GPS system is to provide players with distances to all kind of features on the course and especially to the green they are playing. Some courses are better fit to use the capabilities of GPS than others. In order to obtain a satisfactory accuracy the GPS receiver must have a non-obstructed view of the sky. This makes that courses with lots of trees are less suitable for golf GPS.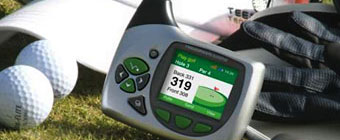 Golf GPS system should contain the following:
Provides you with GPS distances from "any" location on the hole to the 200, 150, 100 yard / meter markers, to the front, centre, and back of the Green.
Record the GPS distance, club used and landing position for every stroke you make.
Stroke length Statistics: tells you the average and longest distance you hit each club in your bag. You know exactly how far you drive the ball.